---
New Firesign Theatre Releases
2/28/99
"FIRESIGN THEATRE LIVE AT WESTBURY MUSIC FAIR (5/20/74)" has been digitally transferred from the original recording and is now released on a 2 CD set for $20 ppd from Firezine Productions. This is a classic performance of the group at its peak doing its "Firesign World" show.

"FUNNK & MUNDAIGNE: THE FIREZINE INTERVIEW" featuring Phil Proctor and Melinda Peterson as the world's oldest and perhaps most obnoxious theatrical couple in an improvised interview with The Freditor done last spring at Minicon 33 in MPLS, introduced by George Tirebiter and featuring a pre-recorded song this 40 min. or so hilarious romp is available from Firezine Productions for only $12 ppd. It has also been released in a limited signed edition for only $25 ppd.

"VISIT TO PLANET PROCTOR" a brand new compilation featuring rare and unreleased recordings of Phil Proctor is being put together as we type. This fool length CD contains material drawn from Proctor's private archive, such as "The Candy Bar Song", Milkum Bodsky's Big Buck Tips, voice over demos and items especially recorded for this release like the special Planet Proctor reading, "How To Sing The Blues" featuring Long John Turner (Internet guitar God) plus many other surprises. Do not miss this CD! Just $15 ppd and in a limited signed edition CD for $30 from Firezine Productions.

"THE (SORT OF) HISTORY OF PROCTOR & BERGMAN ON THE ROAD" Recorded exclusively for Firezine readers on DAT, Proctor and Bergman interview each other and reminisce about their touring years. 35mins. Limited edition CD only $12 ppd from Firezine Productions.
---

Buddy Shell; Metaphysical Private Investigator and other Firesign Appearances



2/28/99

"Buddy Shell; Metaphysical Private Investigator" "That Old Black Magic", A live radio production from last year starring Phil Proctor, David Ossman, Melinda Peterson and others has been released through Lodestone Media. This adventure introduces you to the world of Buddy Shell, http://www.tj.org/BuddyShell/ ,his familiar, Miles, the psychic albino myna bird, and his side-kick Mickey Gold, the 36-year-old paper boy. They tackle the venerable vampire villain, King Legholtz, and wrestle for the future of civilization as we know it. The new 2-CD set "That Old Black Magic" retails for $24.99, and is now available from the LodesTone Catalog web site at: www.lodestone-media.com...or call LodesTone at 1-800-411-MIND.


"Cabbages And Kings", Chad and Jeremy's 1967 psychedelic opus featuring the Firesign Theatre doing background voices, etc on "The Progress Suite" will be released March 9, 1999 by M.I.L. Multimedia. Produced by Gary Usher it contains some of the first released Firesign. Bergman however is not on the album as he was out of the country at the time. The summer of '67 was a busy time for Firesign as they were writing and recording "Electrician", appeared on the Sagittarius single "Hotel Indiscreet", issued on the CD "Present Tense" from Sundazed Records, added battleground noises to "Draft Morning" on The Notorious Byrd Brothers album, released on a Sony CD with an alternate take, and starting to get ready for their Magic Mushroom shows in the fall, some released on the CD "The Firesign Theatre's Pink Hotel Burns Down" from More Sugar, which also contains some FT recordings from the early summer of love.


"IF I'M DREAMING" a new music CD by Firezine Ass. Editor Chris Palladino contains a song that features Firesign Theatre reading news items, (Love Today). Released by Nanook Productions it can be ordered through Firezine for $15 ppd.


New Firesign Related Video Releases: "Zachariah" (1971) The psychedelic western that the Firesign Theatre wrote while working on "Dwarf" has been released in a wide screen version. Starring a young Don Johnson, Country Joe and the Fish, The James Gang, Elvin Jones and John Rubinstein. Proctor and Bergman have bit parts in the film. Though the story was changed by the director 90% of the dialog in the film was retained. (Rated PG, 93 mins. Anchor Bay)


"Tunnelvision" the 1976 Neil Isreal film featuring Phil Proctor as Christian A. Broder and some of SNL people has been released on video. This segmented skit oriented movie is tied together around a then 'futuristic' television network and Broder appearing before a Congressional hearing. 67 mins.
---
Future Firesign Theatre Album From Rhino
2/28/99
RHINO RE-BOUND: Response has been so positively reactive to Firesign Theatre's extremely funny, readily available, continually hyped in Firezine and well worth the investment CD "Give Me Immortality Or Give Me Death" (in case you've forgotten the title) from Rhino Records and the profits gleaming a bright light at the end of the tunnel, that Firesign has railroaded yet another recording out of their horn headed handlers. Tentatively titled, and we know just how tentative these titles can be, and it's probably already been rejected and replaced several times, "You Just Don't Get It, Do I?", which opens up the possibility of optional perceptions, the guys are periodically meeting and writing in the land of sunshine and smog, stories of the rise of divisionary splinter groups led by all-mouth Ayatollahs bent on comedic terrorism and ... golf. You're right, I just don't get it but I will in the end.
---
4 or 5 for Dinner at 8
2/28/99
SURPRISE APPEARANCES: In the big gear up to the grind of being on the road again for the first time in 4 years, the 4 Fireboys are heating up the chafing dish circuit by roasting patrons at the Pollstar Concert Industry Awards Dinner, co-serving with the big Little Richard and funny female Firehead Elyane Boozler.
Several days later they were chuckling the chicken chuckers at the gamey TED9 (2/17/99) conference also solo sortied Saturday by Peter Bergman.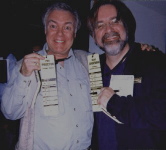 From Proctor:

Met Matt Groening (in photo, with Phil) who signed his autograph; "From a HUGE fan!" He said that FST is brilliant because we "...reward people for concentrating." He says that fact inspired him to go in that direction as he developed the Simpsons. I am sending him and Terry Gilliam an autographed CD. Gave one already to Douglas Adams.
---
Ed Woodpecker
2/28/99
MR. ED SPEAKS: Phil Austin has been writing up a storm when not showered with Firesign work. He's been weathering well forcasted television series scripts, re-masticating his Oxford English Dictionary sized novel "Beaver Teeth", signing autographs and putting-up with prods from deadlining editors. Austin has been lubing his larynx lately to warble out a spoken word version of "Ed Woodpecker, Private Eye", featuring his truly on backing guitar, for a Firezine Productions CD due out by next issue.
---
Official Millennium Survival Handbook
2/28/99
DIGITAL DINNERS: Peter Bergman has been eating up his time speaking at corporate conference cuisine consumptions and stimulating the gorged board directors digestive tracks with his after dinner digital dissertations and keynote addresses. Served up with a heavy dose of millennial mouse' from his delectible "The Official Millennium Survival Handbook" co-penned with David Samson, Bergman's been byting the bits for Apple, Hewlett Packard, IBM, Prudential, PeopleSoft, Fortune, Forbes and USPlus. Purchasing info can be found on http://www.laughtherapy.com or through the phone: 1-800-646-4554.
---
Radio Activity Detected In Oz
2/28/99
RFO.NET REBROADCASTING: It you can't get enough of Peter Bergman on the web, and I know we can't, you'll be perking in your pentiums over the revival of http://www.rfo.net under the tent of the official Peter Bergman website run into the extremes by Christopher Morley ghosting the hosting. Mr. Benway himself has just about copped the favorite Firesign fan site award for most info by incorporating Firezine's Chrono-Histography of more than everything you ever wanted to know that you thought was wrong about Firesign Theatre and then some. Wowie Zowie!
---
A Bug's Life
2/28/99
IT'S A WONDERFUL BUG'S LIFE: Disney's dizzy new pixilated Pixar production has brought new heights to low life. David Ossman was featured as Cornelius the Queen Phyllis Diller's chief councilor. Phil Proctor also gets into the "A Bug's Life" act voicing his residual boosting talents as psychotic flies and disgruntled grasshoppers.
---
Mark Time award at Minicon
2/28/99
THE GREAT OSS HAS SPOKEN: David Ossman sends: "The Mark Time Award for the Best Science Fiction Audio Production of the year will be awarded for the third year at Minicon 1999. This year the Mark Time Committee will announce a new award - The Ogle - for the best Horror / Fantasy Audio Production of the year. For further info on any of that check out http://www.mtn.org/~jstearns/MarkTime.html or call Jerry Stearns at 1-612-722-2907. Newly released Ossman and Proctor performances can be found on various producers' cassettes from the Minicon held in Minneapolis Easter weekend of 1998.

Ossman will be included for the fourth year in Saturday Afternoon Journal. This year's edition is Volume 14 of the series and the subject is "Sin". His poems and many other terrific poems, stories and memoirs by an eclectic batch of writers including Edie McClurg, Phil Proctor. Marshall Efron, and Paul Krassner, are available from Saturday Afternoon, 3090 Lake Hollywood Drive, LA, CA 90068, $10 apiece for the last three numbers, "#13 Flashback", "#12 Illuminations Way After The Flood", and "#11 Excited Utterances". Order #14 for $12 and ask for the date of the Journal's public reading.

DO regrets that he now has so few copies of the Turkey Press limited editions of his "Radio Poems" books that he can no longer offer them for sale. Qssman does have two different poem-broadsides hand-set and hand-pulled (from Turkey's flatbed press in Isla Vista, California), "Santa Fe Red", (12-1/2 by 17 inches, edition of 52 copies made on DO's birthday - 12/6/88), was printed by Sandra Reese in hand-inked shaded reds, suggesting two ristras - strings of chilis, "Hopi Set" (5-1/2 by 19 inches, edition of less than 100), printed for Christmas in 1985 at Turkey by DO from found type he had set into two poems and a title card and left in galleys back in 1972. Both pieces would make rare and interesting gifts. Sent flat. "Red" will set the giver back $85 and "Hopi" weighs in at $50. Both for a nominal $125.00. Checks to David Ossman, POB 566. Freeland, WA 98249. An Ossman voiceover collectable! >From WGBH (or PBS Videos) the NOVA program called "Eclipse of the Century". Produced and written by Tom Levinson in 1992, this thrilling episode is suitably narrated by DO And, speaking of collectables - Pixar will not be selling any action figures of "Cornelius," the Ossman character from "A Bug's Life" but Corny's supposed to appear in any number of the forty or so publications based on the film."
---
Proctor, you sick little monkey!
2/28/99
DO LITTLE GET PAID A LOT: One of the better received of the many movie roles voiced or re-voiced by Phil Proctor this year was his simian similitude, in French accent no less, for an alcoholic ape out-patient monkeying around Eddie Murphy's title character in the posterior pervasive production of "Dr. Dolittle" . Proctor's antics went over so well with the producers that he was called in for extra scenes, expanding the role and was featured in several articles including USA Today. The monkey also made a man out of himself, sans Proctor, touring the talk shows and comparing notes with fellow shallow-end-of-the gene pooler Howard Stern.
---
The Rugrats Movie
2/28/99
TOONED IN: Another blockbuster movie featuring the vibrating vocal chords of Phil Proctor was the animated "The Rugrats Movie". Phil voiced his usual 'Howard', father of the twins and others. "The Rugrats Movie" exploded like an overfilled diaper on the scene, splashing its logos and characters across products, fast food containers and kid's meal stuffers ad nauseum. It was only superseded by the mega-push marketing plague of incipient insects from "A Bug's Life". Proctor's contributions to this residual bearing infestation will help exterminate his retirement blues. When asked what was the buzz on his cartoon capers, Mr. Proctor chirped, "I played the disgruntled fly that asks for his money back at the top of the Flea Circus scene, and the floating grasshopper in the Mexican Retreat scene who asks for "Dos Bugitos, por favor." Other voices are too buried to call out, but I hear them..."
And so do we.
---
"Give Me Immortality Or Give Me Death" Nominated for Grammy
2/27/99
| | |
| --- | --- |
| | |
| Melinda Peterson and Phil Proctor | Mel Brooks and Carl Reiner |

Firesign Theatre's first new album in 17 years received a Grammy nomination for best comedy album, though it lost to fellow Rhino Records nominees Mel Brooks and Carl Reiner for "The 2000 Year Old Man in the Year 2000". Firesign Theatre (sans David Ossman) was previously nominated for "The Three Faces Of Al".

See behind-the-scenes pictures here!